I thought 2006 was an okay year for the album, with plenty of my favorite artists releasing disappointing new ones, and nothing earth-shattering coming out of popular music. But skimming the year's biggest-selling records as well as the indie honor roll, I never felt this out of touch with what everyone else likes. So what do I know? Here are my ten most played new records and some other miscellaneous notes on

the year in music

.
10. Charlotte Gainsbourg - 5:55
All the music here was written, performed, and produced by Air, which makes this the best possible appetizer while waiting for the French duo's next release ("Pocket Symphony," a shoo-in for my 2007 list). The star of the show, daughter of Serge Gainsbourg and Jane Birkin, is more charming as an actress (seen opposite Gael Garcia Bernal in THE SCIENCE OF SLEEP) than as a lyricist, but her voice is a perfect fit with Air, making for the best background music CD this year.
9. The Features - Contrast
How can five humble songs carry twice the punch of a band's major-label full-length? Experience; The Features are now maybe the longest living Nashville band of my lifetime, but this year they were beaten, bruised, and reborn. After getting dropped by their label hours after declining to record a Beatles tune for a major corporation's TV ad, the band lost their keyboard player and seemingly all their momentum. Then comes "Contrast," proof that Nashville's best band is still right on track and ready to roll with the punches.
8. Sean Lennon - Friendly Fire
A follow-up I've been waiting for since high school. Sean Lennon continues to fill his father's shoes with this dark and romantic record.
7. Phoenix - It's Never Been Like That
This French group continues to set themselves apart from basically every other band out there with this collection of peppy, perfectly organized pop songs in which every bit of instrumentation punches, yet leaves room for the rest to breathe. If I ran the music industry, "Long Distance Call" would be a smash hit, containing more infectuous dancability and lovelorn passion than anything on the radio right now.
6. Thom Yorke - The Eraser
Continuing through the dark alleyways beneath Kid A and Amnesiac; Thom's dream life.
5. The Dears - Gang of Losers
Home to the title track that rocked my world two years ago after a live show in Boston, now finally on record. The rest, starting with the climactic, aptly titled "Ballad of Humankindness," is damn good too.
4. John Mayer - Continuum
Haters be damned (and that includes just about everyone I know); Mr. Mayer, my chief homeboy since day one, finally finds the balance between pop songwriter and blues guitarsmith. There is no one out there, still, whose music speaks so directly to me and my life. "Belief," speaking to the paradoxical nature of religous wars, might be the best song he's written. Without a couple of its lesser tracks, Continuum would have topped my list.
3. Mates of State - Bring It Back
Husband and wife Kori Gardner and Jason Hammel, on keys and drums respectively, move away from the stream-of-consciousness, key-changing, time-shifting songs of their career and make their most straightforward, accessible record yet. It sounds better than ever, and the lyrics, as usual, are mostly a mystery. But I've gotta wonder if my favorite indie-rock couple considers "Running Out" to be their final number.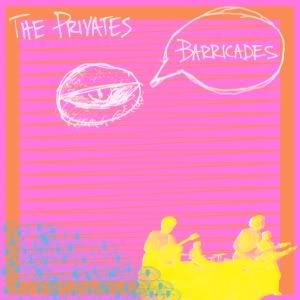 2. The Privates - Barricades
Somehow in their busiest year as a non-band, Nashville's Dave, Keith, Ryan, and Rollum managed to record an album that, if they were to stop making music today (and they might), could fittingly preserve their legacy. But it's cohesive enough, and so incredibly tight, you'd never have guessed what a Frankensteinian endeavor it was. No band has ever sounded quite like The Privates.
Somehow I never got around to hearing "Sha-Sha," this Ben's debut that I'd heard so much word-of-mouth about. Ironically enough, the night of his Nashville show this fall I happened to be in another state in my band's van popping in his new, self-titled record. It was good on the first listen, and then a few hours later every single song was still in my head, begging to be hummed. Ben played all the instruments, never crowding the songs with anything other than the most essential parts. Since I haven't yet come up with anything, I'll re-submit the question posed by my friend Carl: Is there anyone out there today writing better pop songs than Ben Kweller?
Honorable Mention:

David Mead - Tangerine, Belle and Sebastian - The Life Pursuit, Beck - The Information, Justin Timberlake - Futuresex/Lovesounds, Gnarls Barkley - St. Elsewhere, How I Became the Bomb - Let's Go!, Sufjan Stevens - Songs for Christmas


Mildly Disappointing: Yo La Tengo - I Am Not Afraid of You and I Will Beat Your Ass, Jenny Lewis & the Watson Twins - Rabbit Fur Coat, Lambchop - Damaged, Josh Rouse - Subtitulo, Guster - Ganging Up On the Sun, The Strokes - First Impressions of Earth
Big Letdowns:

The Killers - Sam's Town, The Decemberists - The Crane Wife, Elefant - The Black Magic Show, The Flaming Lips - At War with the Mystics, Darkel - s/t, Zero 7 - The Garden
Didn't Get Around to it:

Bob Dylan - Modern Times, M. Ward - Post War, Wolfmother - s/t, Tom Petty - Highway Companion, Lupe Fiasco - Food and Liquor, Kyle Andrews - Amos in Ohio, Ray Lamontagne - Til the Sun Turns Black, Asobi Seksu - Citruss, Damien Rice - 9
Just Don't Get It:

Joanna Newson - Ys, TV On the Radio - Return to Cooke Mountain, Be Your Own Pet - s/t, Jeff - Castle Storm


Favorite song of the year: The Dears - "You and I Are a Gang of Losers."


Runners-up: selections from my 2006 mix CD: Phoenix - "Long Distance Call," Ben Kweller - "Sundress," The Privates - "Heart's Got a Hole," Justin Timberlake - "Sexyback," John Legend - "Show Me," Gnarls Barkley - "Crazy," The Features - "Contrast," Regina Spektor - "Fidelity," Belle and Sebastian - "We Are the Sleepyheads," Jenny Lewis - "Happy," John Mayer - "Belief," Thom Yorke - "Black Swan," Sean Lennon - "Would I Be the One," How I Became the Bomb - "Killing Machine," Mates of State - "Running Out"
Guiltiest Pleasures:

Christina Aguilera - "Aint No Other Man," The Fray - "How to Save a Life," KT Turnstall - "Suddenly I See," Katherine McPhee, Elliot Yamin, and Taylor Hicks.


Favorite pre-2006 songs discovered this year: Snow Patrol - "Chocolate," Why? - "Gemini (Birthday Song)," Elbow - "Forget Myself"
Records I played drums on this year:

The Comfies - Close to Me, Clayton Cheek - Duke of Rural, Syd - The Way We Found It (2007), The Boy Bathing - TBA (2007)

Best Record Store in the country that I know of: Grimey's


Favorite Nashville bands in 2006: The Features, The Privates, Gabe Dixon Band, Jetpack, How I Became the Bomb, De Novo Dahl, Girls and Boys (RIP), Slack (RIP)
Best major label release from a Nashville band / Best TRL appearance by a Nashville band:

The Pink Spiders - Teenage Graffiti

Best local music I discovered here and around the US on tour: Explorers Club, The Modern Skirts, The Empties, DJ Kidsmeal, Plex Plex, Ghostfinger
Favorite shows of the year:
1. Gabe Dixon Band, 12/31/06, Exit/In, Nashville, TN

2. The Privates, 12/16/06, The End, Nashville, TN
3. Mates of State, 4/2/06, The End, Nashville, TN

4. Sigur Ros, 2/14/06, Ryman Auditorium, Nashville, TN
5. Nashville Under the Covers, 9/13/06, Mercy Lounge, Nashville, TN
Most anticipated records of 2007:
The first quarter may be made a bit sweeter with new discs from The Shins, Cornelius, and all-time faves Air. Hopefully, the great new De Novo Dahl record will be released soon thereafter. Then (and if only upcoming records were as well-hyped as upcoming movies), come the heavyweights: Silverchair's follow up to their masterpiece Diorama, the return of the Smashing Pumpkins, and the seventh Radiohead album.
Your turn to talk:

What were your favorite records, songs and shows of the year?